Finding the right SUP paddle can be quite difficult. In this buying guide we will tell you everything about SUP paddles and how to find the right SUP paddle.
Not only the stand up paddle board itself is of great importance, but the SUP paddle is also extremely important. The more often and longer you paddle, the more difference you will notice when paddling with the right paddle. The right paddle ensures more fun in stand up paddle boarding. To give you a better insight into which sup paddle you need, we will help you on your way with the step-by-step plan below.
Content of the step-by-step plan:
How to use the paddle
Paddle weight and material
Paddle T-grip
The blade of the paddle
The length of the paddle
How to use the sup paddle
To purchase the right SUP paddle, it is important to know who will use the SUP paddle. If you plan to have your paddle used by several people (friends / family members), it is wise to take an adjustable paddle that is made of a durable material. If you will only use the paddle for yourself, you can take a non-adjustable (fixed) paddle that is also made of a durable material.
For the beginning Stand Up Paddler, the paddle will not make much difference in the beginning, an entry-level model will usually suffice. But a more experienced or advanced paddler will want a paddle in a higher price range as they feel a lot more pleasant. We did a little research into which SUP paddle best suits a certain person with a certain end goal. View the result of the investigation below:
Use for yourself: if the paddle is only intended for you, then a fixed paddle from one piece is the best choice
Use for several people: a vario (adjustable) sup paddle is ideal in this case, because you can adjust it to the desired height
Use for children: for children we have special children's paddles, the advantage is that they are always adjustable. This way children can grow with the paddle. It does depend on the height of your child whether he / she needs a children's paddle, with some children a normal paddle will already be possible
Purpose of your paddle
Before buying a sup paddle, it is also important to know for what purpose you will mainly use it. For example, are you only going to paddle board in the sea or are you also going to paddle small pieces on flat water? Or do you really want to enjoy a long piece of Stand Up Paddle Boarding? An appropriate SUP Paddle can be found for all the purposes just mentioned. View the list below to find the ideal SUP Paddle per application.
Touring: for tour supping (long trips) it is nice to have a paddle that is at least light in weight.
All-round: If you go paddle both at sea and flat water, an adjustable sup paddle is handy. The recommended length of a sup paddle differs at sea and in normal water
Sea: for supping at sea, both a vario paddle and a fixed paddle are a good choice. This of course depends on what other purposes you are going to use it for. In the end, a fixed paddle is always the best when you look at the properties
Paddle weight and material
To buy the right sup paddle, it is not only important to know your purpose, but also what weight and which materials of the paddle are ideal for you. Weight and material are closely related. You have different kinds of choices for the material. Carbon paddles are one of the most popular types of paddles. This is mainly due to its stiffness and light weight.
Nowadays, SUP packages are also supplied with paddles that contain 15% or more in carbon. The more carbon there is in the paddle, the lighter it is in its weight. We have researched all materials and what the difference is between these materials. View the research below:
Carbon paddles: the strongest material, lightweight and provides the best performance, but is also the most expensive to buy. You have carbon paddles in fixed and adjustable variants. The fixed variant is the most sturdy as it consists of one part. If you want to perform the best, you should definitely take a carbon paddle!
Glass Fibre paddles: almost as light as carbon, but slightly less strong. As a result, the material will bend faster when you put a lot of force on it, which is at the expense of your acceleration. Nevertheless, it is an excellent and cheaper replacement for carbon
Aluminum paddles: strong, but also the heaviest material. Aluminum is also the cheapest material. Great for a beginning paddler or when you regularly lend your paddle to others since aluminum can be called vandal-proof
Wooden paddles: light material, provides excellent performance and above all is very beautiful. However, wooden paddles are more expensive than aluminum or fiberglass. But you also get something in return, because we have to say it again: they are very beautiful!

See below some of the most popular SUP paddles:
T-grip of the sup paddle
The T-grip is at the top of the paddle, this is the part where you hold the paddle at the top. Every T-grip is different. If you have large hands, a larger T-grip may feel nicer. For someone who has small hands, it is nice to have a standard T-grip. By feeling the T-grip, people often know immediately whether the paddle is comfortable in the hand, this way you can be sure that you are purchasing the right paddle.
The blade of the SUP paddle
The structure of your body already largely determines the size of your blade. A larger blade is more likely to be used by tall, strong men while a smaller blade will often be used by smaller men, women and children. This is because you exhaust yourself faster with a larger blade and also run a greater risk of injuries. 
The size of the blade
The most commonly used size of a blade is 525 square cm
For the larger and stronger paddlers there is a blade of 550 square cm
Women often use 475 square cm
If you want to paddle in the waves, it is best to look at a blade of 575 square cm
The length of the sup paddle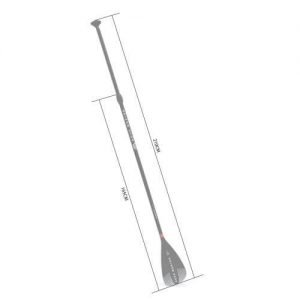 Determining the length of your paddle is not very complicated. If you want to paddle in the waves, you take your height +20 cm, for all-round paddling you take your height +23 cm and for racing you take your height +26 cm. If you travel a lot with your paddle, you could opt for the 3-piece paddle, these are very easy to take with you. The correct standard length does not really exist for a sup paddle, with every application a different length is required.
This is also different for everyone. It also has to do with the load on your back and shoulders. That is why a vario paddle is ideal to find out which length is most suitable for you. Do you want to know more about the right paddle length? Check out our extensive blog about determining the right paddle length.
3 types of paddles
When choosing a paddle, it is also important to know that there are 3 types of paddles:
Fixed: a paddle that consists of one piece
Vario: a two-piece paddle that is adjustable and consists of 2 parts
Three-part: it consists of 3 parts
When taking a fixed paddle, we recommend that you first paddle with a vario paddle. This way you feel exactly which length of the SUP paddle is ideal for you. A fixed paddle has to be cut to size. It would be a shame if you saw the paddle to size and it turns out afterwards that you don't like the chosen size.
Conclusion
There are several aspects to consider when buying a sup paddle. Partly because of our experiences we have come to this conclusion.
If the paddle is only intended for yourself, we recommend that you look at a high-quality sup paddle such as a Glass fibre or carbon sup paddle. In the long run, this provides much more fun and comfort. The great thing is that nowadays there are also Paddle board packages with a high quality sup paddle. This is ideal for beginning stand up paddle boarders who have the goal of being on the water a lot. So you do not have to purchase a separate sup paddle.
If you plan to do a lot of supping and also want to use the paddle for your whole family, we recommend taking a vario, i.e. adjustable aluminum paddle or glass fibre paddle. A glass fibre paddle is lighter in weight, so if you paddle a lot it will cost you a lot less energy than with an aluminum paddle. If the use is only for acquaintances or children, an aluminum paddle will certainly suffice.
Visual explanation – choosing the right paddle
Are you still not quite which paddle suits you best after reading our sup paddle buying guide? Watch the video below or view our additional blog on how to choose the right sup paddle.
Need advice when purchasing a Stand Up Paddle Board? Then read our paddle board buying guide.
If you have any questions about buying a sup paddle or Paddle Board, please do not hesitate to contact us.
Out of Stock

€

34,95

incl. VAT