Aloha!
Welcome to the new collection of Moai SUP.
Moai SUPS are ideal for both beginning and advanced paddle boarders!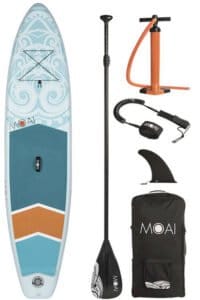 All Moai Paddle boards are inflatable and therefore easy to take with you. In addition, they were designed in the Netherlands in collaboration with a designer from Nike.
Moai's mission is to create the most innovative and quality water sports products in the industry, with an advanced design while still being affordable for the recreational market.
When purchasing a Moai Paddle Board, Moai makes a donation to the Waves 4 Change organization in South Africa.
Moai Collection 2023
Moai Paddle Boards are currently one of the most sought-after sups in Europe. Why? Check out the reviews of Moai and find out right away. The new 2021 collection from Moai has something for every supper. From beginning to advanced suppers. From an all-round Paddle Board to a foil board. Moai offers the right board for everyone!
Want to know more about Moai? Read all about Moai in our advice guide.
Check out Moai's 2023 collection:
€

799,00

incl. VAT

Delivery time: 3 to 4 working days ✓ Fast Delivery