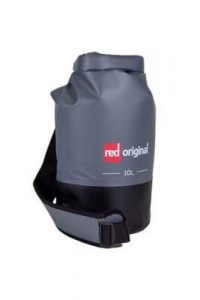 If you are a fanatic Stand Up Paddle Boarder then you will soon find that you want some new SUP accessories with your SUP equipment. In this blog we have put together a top 10 of the best Stand Up Paddle accessories. In this top 10 we have put the most handy and popular accessories. Check out the top 10 best Stand Up Paddle accessories below:
A drybag is indispensable for when you are going to make a long SUP trip. A dry bag, also called a waterproof bag, is ideal for storing your mobile, food and drinks. As the name suggests, this bag is waterproof. You can easily clip a drybag to the elastic or to the handle of your paddle board. This way you protect your belongings optimally against possible water damage and you can always take all the necessary things with you to make a long trip.
A hand pump is supplied with almost every Stand Up Paddle Board. Inflating your Board with the hand pump requires a lot of energy, time and effort. With an Electric SUP pump you will no longer suffer from this. An electric pump inflates your board automatically. You have both electric pumps that inflate and deflate and also electric pumps with and without an integrated battery.
Are you interested in an electric paddle board pump, but are you not quite sure which e-pump suits you best? Then read our electric SUP pump buying guide.
The Red Paddle Silent Air Remover takes the annoyance of deflating your inflatable sup. As the name suggests, the silent air remover strongly dampens the sound of the air coming out of the board. This is one of our favorite accessories, because we suffer a lot from the noise that is caused by a sup that is empty. With our SUP rental we are located next to a terrace. When we deflate a board without the silent air remover while people are sitting on the terrace, the people on the terrace (logically) are immediately irritated. The Silent Air Remover solves this problem as it greatly muffles the sound of the deflating board. And of course it is also good protection for your ears since a deflating paddle board produces a lot of decibels.
If you want to feel safe on the water, the Restube Basic is an accessory you don't want to miss. This buoy inflates in no time after pulling the cord. Thanks to the ideal design, you can easily carry it around your hip. The Restube Basic Inflatable Buoy is indispensable when you Stand Up Paddle Board on rough waters!
One of the things that we as adventurous paddle boarders mainly encounter is leaving the car key behind. When you go stand up paddling on the sea with rougher water, you don't want to have a drybag with you, because that is inconvenient. For this reason, Ion has developed the Ion Key Safe. This is actually a mini safe for your key. You can easily hang it around a thin pole or dig it in the sand. Note: only put the key in a place where you are sure you will remember where it is. Otherwise there is a good chance that you will not be able to find the key again. When you have dug up the Key Safe, enter the code and you can easily remove your key. Ideal for when you go surfing, for example.
You know that feeling when you go paddling, fall into the water and then find out that you don't have any dry clothes with you? We do! That is why we think the Ion car seat towel is ideal. You can easily put this towel around your car seat so that you can also sit wet in the car. So you don't have to worry about the upholstery of your car. It is also ideal if you simply do not feel like changing at the current location. Thanks to the Ion Car Seat Towel, you can get into the car in no time!
With the Moai Kayak Chair and Paddle you can transform your Paddle Board (provided the sup has the right connections) into a canoe / kayak. You connect the kayak seat to the O-rings of your board, when the seat is firmly on it, click the paddle together and you are ready to paddle!
In principle your paddle should float, unfortunately this is not always the case. We have already lost many paddles at our SUP rental because they have sunk. Since we have been using the Ion Paddle Floaters we have not had this problem anymore. You put the float around your paddle, put the Velcro together, and your paddle will now float without a doubt!

If you can't lift your board with the handle because it is too heavy or because you don't feel like it, the Ion SUP Carry belt is the accessory you need. With this Carry Belt you can easily carry the SUP under your arm. The Carry Belt is both around your shoulder and around the board. This way you actually wear the board like a bag and you are not burdened too much on one side.
The Red Paddle Valve Adapter can of course not be forgotten in this Top 10 Best Stand Up Paddle Accessories blog. The valve adapter from Red Paddle ensures that you can transform your normal bicycle pump or compressor into a Paddle Board pump. The valve adapter uses the 'schrader' system, so you can put many types of pumps on it. Ideal if you have a compressor or bicycle pump and don't want to buy an electric pump!
Conclusion
There are various Stand Up Paddle accessories that give a major contribution to the comfort of your paddle experience. For example, a drybag is super handy to safely take your things with you and an electric pump is super handy to save your energy for supping. Each of these top 10 SUP accessories is super handy to have and will without a doubt make your paddle experience better.
Looking for the links of the products? The links are incorporated in the blue headers, they are clickable and send you directly to the relevant product.
Don't have a Paddle Board yet but want to buy one? Then take a look at our Stand Up Paddle Webshop. We supply complete packages as well as separate Paddle Boards and paddles. Do you have any questions about an accessory or which accessory is best to use for a specific situation? Please do not hesitate to contact us, we will be happy to help you!
Do you ever SUP with your dog or are you planning to? Check out our blog about the most popular dog SUP accessories.