In this blog we have researched the Fanatic brand. In the research we took into account the following main question: what are the best Fanatic Stand Up Paddle Boards at the moment? In this research we looked at various categories that Fanatic SUP uses. Fanatic has paddle boards especially for touring, all-round use and sups for the sea, these are also called wave paddle boards, the last category that Fanatic uses is race.
View the best Fanatic Stand Up Paddle Boards of 2022 below: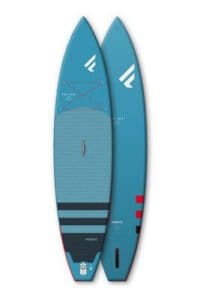 The best Fanatic touring paddle boards
Fanatic has touring paddle boards in their range in both inflatable and non-inflatable variants. The touring boards are extremely popular, this is because you can make wonderfully long trips everywhere in Europe. The pointed nose allows you to glide even better through the water. These boards are therefore mainly intended for flat water. There are of course also touring paddle boards especially for the sea.
Selection Fanatic touring Paddle Boards
Check out our selection of the best touring paddle boards for flat water below:
Fanatic Ray Air Premium: this is an inflatable touring paddle board. This board is super strong because it is double layered. This makes it extra stiff and sturdy. In addition, this board is available in different lengths so that every weight class can paddle on it. The Fanatic Ray Air Premium is now also offered as a package. That means that it comes with a bag, leash and paddle. They have these sup packages with sup paddles of 15% carbon, but also with sup paddles of 35% carbon.
The longest version of the Fanatic Ray air premium is 13'6 feet. This is also widely used to go stand up paddling with your dog
Fanatic Ray air pure touring: this is the budget model of Fanatic. It is extra light because it is not double layered.
This model is available from €609 including bag, pump and paddle. The great thing about this paddle board is that it is also available in two lengths, just like the premium variant. There is a pure air touring 11'6″ and 12'6″. The Fanatic pure air touring 12'6 therefore has more volume and is therefore more stable
Fanatic Ray Touring LTD: this is a touring hardboard, the advantage of the Fanatic ray touring LTD is that you don't have to inflate it. This is a lightweight touring board. Because it is not inflatable, it is much stiffer. This stiffness results in a better glide over the water. There is also a cheaper version of this model. That is the Fanatic Ray touring, it is slightly heavier compared to the ray touring LTD.
This research has shown that the Fanatic pure air touring sup is one of the most popular paddle boards from Fanatic. In addition, it is also the best budget board of 2022. Click on the link above to view the package.
The best Fanatic all-round paddle boards
Fanatic's all-round paddle boards are used on both flat and sea waters. The shorter the sup, the better it is to catch a wave at sea. The longer the sup, the nicer it is to sup on a trip on flat water. When researching the best Fanatic all-round paddle boards, we looked at the use of most recreational paddlers in Europe.
Selection Fanatic Allround paddle Boards
View our selection below for the best all-round paddle boards from Fanatic.
Fanatic fly air premium: the most perfect all-round board out there. It is available in various sizes. This version of the fly air variant is extra stiff, because this type is also double-layered. If you use the board more on flat water, it is wise to take the longest version. In Europe, stand up paddling is mainly done on flat water
Fanatic pure air: the pure air is the budget board of the fly air premium. This board is perfect for a beginning paddler. This board is also available in different lengths. And it is lighter, because it consists of one layer. Do you want to go paddling? This is the perfect all-round Paddle-Board for the novice supper. Since this is one of their most sold boards, we have made a special advice guide for it
Fanatic Fly eco: this is a non-inflatable all-round paddle board from Fanatic. This board is not only popular because of its beautiful appearance, but also because it is perfect for the beginning paddler. It is also available in two sizes. A hardboard of this material can take a beating, this is due to the material these SUPS are made of. If you have the space to store a non-inflatable Paddle-Board then this is the ideal board. Both for yourself and for your family!
The best Fanatic wave paddle boards
The wave paddle boards are Fanatic boards specially made for supping at sea. If you go paddle boarding at sea, you naturally want to catch waves. In this research we looked at which one is most suitable for catching a nice wave. We are of course take into account both beginners and advanced paddlers. That is why we looked at what is the most sold in our webshop.
Selection Fanatic surf Paddle Boards
Check out our selection of the best-selling Fanatic surf Paddle Boards here:
Fanatic stubby air: this is the inflatable wave paddle board from Fanatic. Because of the length you can perfectly turn and move on the waves. For people up to 90 kg this is a perfect surf board
Fanatic Stylemaster: the Fanatic stylemaster is a composite paddle board. This board is perfect for small waves. This is mainly because it is a longboard, this makes it easier to catch the wave
Fanatic fly air premium: the fly air premium is a super stiff inflatable paddle board. It is available in various lengths. In short: the perfect Stand Up Paddle Board for any type of paddler to play in the waves!
The best Fanatic race paddle boards
Race stand up paddling is becoming more and more popular. There are various sup competitions Europe and abroad that you can participate in, such as the Dutch National Championships. A race paddle board is not only used for racing, but also for tour paddling. In this research we looked at the fastest boards from Fanatic. We included both inflatable and hardboard SUPS in this study.
Selection Fanatic Race paddle boards
Check out our selection of Fanatic's best race sups below.
Fanatic Strike Carbon: The Strike Carbon SUP is one of the fastest racing SUPs in the world. This is not an inflatable paddle board, because it is largely made of carbon. There are 2 widths of this board, depending on your sup qualities you choose the right width. The wider the board, the more stability, the narrower the faster
Fanatic ray touring ltd: for a more stable race board, the ray touring LTD is a perfect hardboard. It is light and slightly more stable than the Fanatic strike race board
Falcon air 14 feet: the falcon air 14 feet is the inflatable version of the Fanatic strike. Despite being inflatable, it is super strong and stiff. This makes it very fast. This SUP is also available in 2 widths. Depending on your stability and qualities you can choose the right width
Conclusion
Fanatic paddle boards are among the best Stand Up Paddle Boards in the world. Fanatic has the right sup board for you for every purpose.
That is why it is good to look at what exactly you want to do with supping and what your goals are. The inflatable paddle boards are by far the most sold boards in Europe. Everyone can easily store these boards because of the compactness. Nowadays you no longer have to inflate these boards by hand. You can pump them up quickly and easily with an electric sup pump. With our selection of the best stand up paddle boards from Fanatic, a whole lot of people can join in the fun.
Would you like to know more about purchasing an inflatable sup board and/or seek advice about Stand Up Paddle Boarding? Then take a look at our stand up paddle board buying guide and inflatable stand up paddle board buying guide.