Turn paddle Board Into Kayak With A Kayak Chair: It is generally known that you can do more with a Stand Up Paddle Board than just paddle. You can work out, surf and even fish on your SUP. And nowadays you can even canoe with your SUP. Brands such as Aqua Marina and Moai have created special kayak seats and paddles. These kayak seats and paddles can be used on selected SUPS. In the texts below we explain how you can transform your paddle board into a canoe with a kayak seat.
Which SUP brands have a kayak seat option
Currently only Aqua Marina, Moai and Zray have an option for a kayak seat. In the future this will no doubt expand to other brands, but for now it will stay with Aqua Marina, Moai and Zray.
Which kayak chairs are there?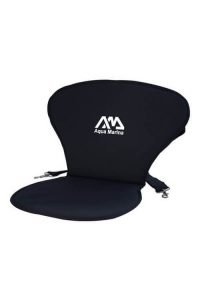 1. Aqua Marina SUP Kayak Seat – This kayak seat from Aqua Marina can transform the following boards into a canoe: Aqua Marina Breeze, Aqua Marina Fusion, Aqua Marina Vapor and Aqua Marina Atlas.
2. Moai Kayak seat – The Moai Kayak seat is the ideal accessory to transform your Moai SUP into a kayak. The Kayak Chair only fits the following Moai Model: Moai 10'6″
To completely convert your paddle Board into a kayak, you also need a kayak paddle. The Moai Kayak Paddle can be used universally and can be divided into 3 parts so that you can easily take the paddle in your Board backpack.
If you have a Moai and Aqua Marina kayak seat, you can use your paddle board in the following way. Watch the video below:
Did you find this blog interesting about Turning Your Paddle Board Into A Kayak With A Kayak Chair? Be sure to check out our other SUP blogs.