We notice from our experiences that it is sometimes difficult for heavier people to find the right paddle board. We also often hear that people are looking for the right Paddle Board to go on with their child or dog, but cannot find it easily. To make the choice easier, we have researched which boards are suitable for carrying a maximum of 120 kg and also which boards are suitable for carrying more than 150 kg.
It is important to know what your own weight is plus the possible weight of your child and/or dog. This is an important factor in choosing your new Paddle Board
The best choice for a Paddle Board for up to 120 kg
These boards are suitable for a heavier person, but at the same time also for an adult in combination with a dog or child.
These types of boards can have a maximum weight of 120 kg. These are therefore perfect boards for beginners.
If you do not want to have a wet foot while supping or do not want to compromise the quality of the board, we recommend that you sit 15 to 20 kg below the maximum recommended weight capacity of the Paddle board. This way you will not exceed the limit and your SUP will continue to perform optimally
Red paddle 10'8 Ride best choice for a 120kg Paddle Board
The Red Paddle 10'8 Ride is without a doubt the best choice for a SUP Board with a maximum load capacity of 120 kilograms. This board is very stable and manoeuvrable thanks to its high volume and compact shape. Do note that Red Paddle Boards can have much more than the weight that is displayed, the weight displayed (120kg) is the ideal weight.
Thanks to its good stability, this board is very suitable for the beginning stand up paddler. This is a wonderful board to experience your first SUP kilometers and to get the techniques under control. The Red Paddle 10'8 Ride board comes in a very complete package so that you can go straight on the water!
The best choice for a Paddle Board with a carrying weight of 150 kg
These are paddle boards with the most weight, namely up to 150 kg. These SUPS are perfect for people who are heavier and/or adults who want to stand on the board with a heavier dog or child.
Note: there is a big difference between allround and touring paddle boards, do you want to know more about it? Then view our buying guide.
Moai 11 all-round best choice for a 150kg SUP Board
The Moai 11 all-round Paddle Board can carry an amazing amount of weight for such a compact Stand Up Paddle Board, namely 150 kg. This high load capacity in combination with the stability and pointed nose provides a unique SUP experience. This makes the Moai 11 all-round the best choice for a Stand Up Paddle Board that can have a load capacity of up to 150 kilograms.
This unique 11 feet long Paddle Board from Moai that can carry 150 kg is also supplied in a very complete and competitively priced package, very ideal!
Bonus: Best choice for a multi-person Paddle board
There are not many multi-person Stand Up Paddle Boards on the market. Yet there is a demand for it. For this reason we have included a multi-person Paddle Board in this study. A multiple person SUP is a board with which you can stand up with two (or more). This makes a two-person sup super cozy and twice as much fun!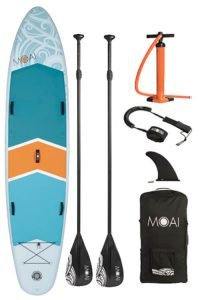 Moai 12'4 Allround Family best multi person SUP
The Moai 12'4 Paddle Board has just been launched and is already a hit with recreational suppers. This Paddle Board from Moai makes paddle boarding as much fun as can be for two. The board delivers everything you ask for, from stability to speed, for a 2-person SUP the Moai 12'4 does the trick without a doubt!
En ook dit board van Moai wordt weer in een zeer compleet en scherp geprijsd pakket geleverd. Je kan dus direct met je vriend, vriendin of familielid het water op.
Are you planning to purchase your first SUP Board? Then take a look at our SUP buying guide for beginners.